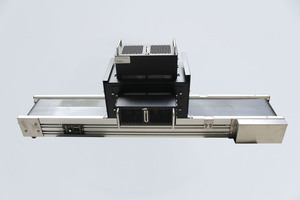 UV CURING PRODUCTION LINE CONVEYOR SYSTEM
Product Description and Features
LED Curing system offering high intensity light curing capabilities.
Typical cure speeds are between 5-15 seconds.
High performance.
Compact, lightweight, and durable.
Fan or water cooled for temperature management.
Instant on/off function – no warming up time.
Very high intensity outputs.
Suitable for a wide range of manufacturing applications.
Superior product life span – 20,000 working hours.
Safe for use in any production environment – ozone free, mercury free.
No replacement parts required.
Suitable for use in the Medical Device manufacturing markets.
Suitable for working with all types of substrates.
Specifications
Conveyor Production Line UV Curing System
Adjustable speed: m/min:1-10m
Dimension: Length: 1200mm x Width: 410mm
Belt material: Teflon / green belt / stainless steel mesh belt
Light source: Can be configured with one or two LED light heads depending on your part size
Effective width of belt: 350mm (with Product Guide)
UV Intensity
The LED can be specified at a range of intensities from 750-8000mW/cm2 @10mm
Wavelength Options
UV ovens are available in 365nm, 385nm, 395nm, 405nm options.
Customisation
We offer a complete custom design service and Conveyor systems can be designed to meet your exact specification requirements.
Cooling Options
Depending on size and configuration units are either fan cooled or water cooled.
Accessories
CE Certified
All our UV equipment is CE certified. Certificates are available upon request.
Contact us now for full specification details – sales@novachem.ie