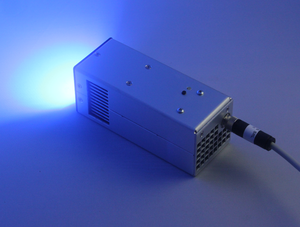 IRIS-70 UV LED CURING SYSTEMS
Product Description and Features
Curing systems offering high intensity light curing capabilities. Typical cures speeds are between 5-15 seconds.
High performance.
Compact, lightweight, and durable.
Fan cooled for temperature management.
Instant on/off function – no warming up time.
Very high intensity outputs.
Compact and light weight.
Superior product life span – 20,000 working hours.
Generates no heat or infrared.
Safe for use in any production environment – ozone free, mercury free, no UVC-UVB radiation.
No replacements parts required.
Can be used in hand held applications or mounted for production lines.
Suitable for working with all types of substrates.
Available in different wavelengths including 395nm and 410nm.
Technical Data
UV light intensity - depends on distance.
Illumination area - depends on distance.
Uniformity of UV light irradiance - depends on illumination area.
Emission Spectrum Data
Product Specification Options
| | | | | | | |
| --- | --- | --- | --- | --- | --- | --- |
| Product | Peak Wavelength | UV Flux | Peak Irradiance | Dimensions | Weight | Supply |
| IRIS 70-395 | 395nm | 17.0W | 6.0 W/cm2 | 50 x 50 x 126 mm | 275g | 36Vdc 1,4A |
| IRIS 70-410 | 410nm | 17.0W | 6.0 W/cm2 | 50 x 50 x 126 mm | 275g | 36Vdc 1,4A |
Product

Description

Weight

Supply

ALIM100W

Universal power supply (output 36Vdc 2,7A) kit with connector and AC

575g

110-277Vac
50/60Hz

PMPE0097

Connection cable with connectors, 2 mt length

87g

NA

-

5X3.03.33.04

UV protective glasses

NA

NA
Contact us now with your enquiry – sales@novachem.ie