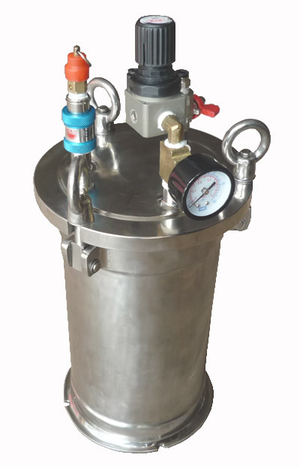 PRESSURE POT - P2000
Product description
The P2000 pressure pot is designed for use with all types of adhesives and sealants including cyanoacrylates, anaerobics and UV curing resins. Ideal for use with 250g, 500g and 1 litre bottles of cyanoacrylate, anaerobic adhesives and UV adhesives. Also suitable for use with high viscosity products. Quality stainless steel construction. Use with a regulated air supply.
Applications
• Cyanoacrylate Adhesives

• Anaerobic adhesives

• UV Cured adhesives
The P2000 is supplied with:
Tubing – clear or black – 6.25mm/1/4" – 3 meters

Dip tube (removable)

¼"/6.25mm compression fitting

¼"/6.25mm air supply regulator

Rubber gasket seal

Pressure gauge

Pressure Safety relief valve
Specification
Material: Stainless Steel Body

Outer Size: 102mm W x 350mm H

Inner Chamber: 250mm

Air Inlet: 6.25mm/1/4"

Material Outlet: 6.25mm/1/4" OD
Relief Valve:
Pull Ring should be used to depressurise the tank after usage or when changing the bottle.
Warranty
12 month warranty against fault, failure and product defect from date of purchase.
Contact us now with your enquiry – sales@novachem.ie