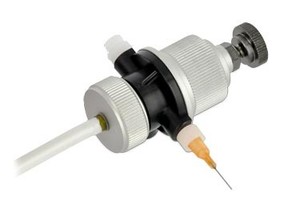 PRECISION PINCH VALVE TUBE - PV100
Product Description
The PV100 is a pneumatic precision pinch valve for repeat dispensing of most low to medium viscosity adhesives. The PV100 is connected via a fluid line direct from a pressure pot. The components in contact with the adhesive are easily replaced and inexpensive.
Applications
Dispensing of most low to medium viscosity adhesives. The precision pinch valve uses pinch tubes which are low cost and easy to replace making this valve maintenance free and cost effective.
Features
Cost effective

Zero maintenance

Lightweight

Versatile and can be used with most adhesives

Adjustable stroke control

Fast, repeat deposits up to 500/minute

Recommended for Cyanoacrylates
Recommendations
The PV100 is recommended for use with our pressure pots. Please contact us directly for further information on our pressure pot range.
Specification
Size: 83.00mm x 40.00mm

Colour: Black/ Silver

Weight: 82 gram

Flow Rate: 2.04 litres/min (Water) at 4 bar/60 psi

Max Fluid Pressure: 4 bar / 60 psi

Min Shot Size: 0.007ml

Fluid Viscosity Range: Up to 45,000cps

Material Inlet: Female luer lock

Material Outlet: Male luer lock

Actuation Air Pressure: 3.4 bar / 50 psi minimum

Wetted Parts: Polyethylene
The PV100 is supplied with:
Pinch Value

Pinch tube assembly

Dispensing Tips

Tubing – clear or black – 6.25mm/1/4" – 3 meters

Mounting Stand – Optional
Warranty
12 month warranty against fault, failure and product defect from date of purchase.
Contact us now with your enquiry – sales@novachem.ie