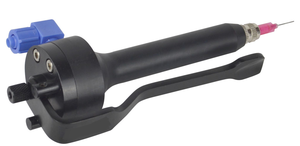 DISPENSING PEN - DP200
Product Description
The DP200 Dispensing Pen uses a replaceable PTFE disc assembly. This valve is designed to handle all types of adhesives and sealants from low to medium viscosities. Ideal for controlled rates of dispensing in a range of applications. The valve uses disposable tubing, clear for Cyanoacrylates and other adhesives. Black lines are recommended and available for UV cure adhesives. The PTFE disc assembly is secured closed until the lever is pressed down which automatically opens the valve to allow material flow. Once the lever is released, the spring loaded rod pushes against the PTFE disc to seal and stop material flow. This valve can be used for dispensing Cyanoacrylate adhesives, UV cured adhesives, anaerobic adhesives etc. This valve is used with replaceable tubing and is almost maintenance free. Material can be fed directly from a pressure pot.
Applications
The DP200 dispending pen can be used for multiple manufacturing applications and production processes where precision dispensing of adhesives or sealants is required.
The DP200 is supplied with:
Dispensing pen dispenser

Dispensing Tips

Elbow push fit connector for 6.25mm/1/4" tubing

Tubing – clear or black – 6.25mm/1/4" – 3 meters
Specification
Size: 159mm L x 44mm D

Weight: 136g

Viscosity Range: 1 - 6000 Cps

Max Fluid Pressure: 4 bar / 60 PSI

Material Inlet: Female Luer Lock

Material Outlet: Male Luer Lock

Colour: Black
Warranty
12 month warranty against fault, failure and product defect from date of purchase.
Contact us now with your enquiry – sales@novachem.ie