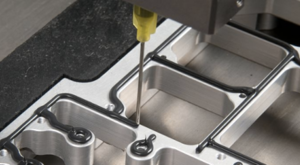 ADHESIVE DISPENSERS
Novachem's dispensers of adhesives and sealants are available in a versatile range of design and use. Suitable for multiple applications, they offer high accuracy and cost effectiveness, and are virtually maintenance free.
Our range includes –
Digital Timed Pneumatic Dispenser

Dispensing Pen using a replaceable PTFE disc assembly

Pressure Pot for use with all types of adhesives and sealants

Pneumatic Precision Pinch Valve for repeat dispensing

Wide range of Dispensing Tips which include -
-NC straight Dispensing Tips with electro-plated shafts offering an unobstructed and consistent material flow.
-Tapered tips with double helix leur locking threads offering safe attachment to all syringes and valves.
-Polypropylene tips designed with flexible needle tips and a plastic double helix locking hub which prevents the tip from working loose.
-Angled Dispensing NC Tips designed with electro-polished shafts offering an unobstructed and consistent flow of material, and available with a 45° or 90° bend.
-Double helix brushed tips designed for applications requiring adhesive and sealants to be brushed applied.
Contact us now with your enquiry – sales@novachem.ie
Subcategories