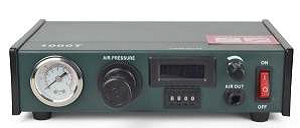 1000-T DIGITAL TIMED PNEUMATIC DISPENSER
Product description
The 1000-T is a lightweight versatile benchtop pneumatic dispenser with LED display, digital timer and vacuum suck-back for timed deposits or controlled beads. This 1000-T is foot pedal or finger switched operated.
Applications
The 1000-T is designed for all small scale automated adhesive applications and is suitable for use with most adhesive products supplied by Novachem. The timer allows for repeat application if required.
Standard
The 1000-T Digital Timed Pneumatic Dispenser is CE approved.
Features
Digital timer with LED display

Vacuum suck back

Quality design

Easy to use and cost-effective dispensing system

Allows for extremely accurate dispensing
The 1000-T is supplied with –
• Electric foot switch

• Electric finger switch

• Airline connector fitting with 6.25mm/1/4" tubing

• Power cord

• 5 x 30ml clear syringe barrels with caps and tips

• Syringe stand

• Syringe adaptor

• Tubing – clear or black – 6.25mm/1/4" – 3 meters
Specification
Size: 246mm x 145mm x 65mm

Min volume: 0.05ml

Weight: 2.98 kg

Output Air Pressure: 0.1- 7.0 bar

Input Air Pressure: 1-7 bar

Timer: 0.001 – 99.99 seconds

Input Voltage: 220v AC

Speed: Up to 600 cycles/minute

Timing Tolerances: +/- 0.01%
Warranty
12 month warranty against fault, failure and product defect from date of purchase
Contact us now with your enquiry – sales@novachem.ie