UCUBE - LED CURING SYSTEMS
Product Description and Features
LED Curing system offering high intensity light curing capabilities. Typical cure speeds are between 5-15 seconds.
High performance.
Compact, lightweight, and durable.
Fan cooled for temperature management.
Instant on/off function – no warming up time.
Very high intensity outputs.
Suitable for a wide range of manufacturing applications.
Superior product life span – 20,000 working hours.
Generates no heat.
Safe for use in any production environment – ozone free, mercury free.
No replacement parts required.
Can be used in hand held applications or mounted for production lines.
Suitable for working with all types of substrates.
Available in different wavelengths including 365nm and 395nm.
Technical Data
UV light intensity - depends on distance.
Illumination area - depends on distance.
Uniformity of UV light irradiance - depends on illumination area.
Irradiance Data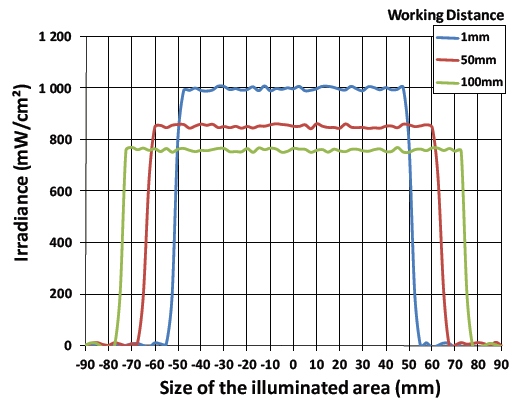 Product Specification Options
| | | | | | |
| --- | --- | --- | --- | --- | --- |
| Product | Peak Wavelength | UV Flux | Dimensions | Weight | Supply |
| U-Cube-365-1000 | 365nm | 1000 mW/cm2 | 100 x 100 x 180 mm | 2.2kg | 48Vdc |
| U-Cube-395-1000 | 395nm | 1000 mW/cm2 | 100 x 100 x 180 mm | 2.2kg | 48Vdc |
| U-Cube-365-250 | 365nm | 250 mW/cm2 | 100 x 100 x 180 mm | 2.2kg | 48Vdc |
| U-Cube-395-250 | 395nm | 250 mW/cm2 | 100 x 100 x 180 mm | 2.2kg | 48Vdc |
Contact us now with your enquiry – sales@novachem.ie